We build custom furniture packages with your style in mind. We fully manage your furnishings, which means taking care of designing, delivering and assembling of your furniture so that you don't have to loose time by planning, shopping, and reading those instruction manuals.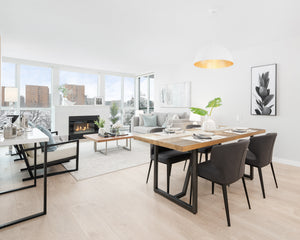 HOW DO WE DO IT?
We Design
Work with one of our in house interior designers in a consultation. We want to understand your space and who you are, so we can get a true idea of what you are looking for. We can't move forward without your approval, so we send you the mockups, mood board and make sure you like the furniture we picked for you.
We Deliver
We offer free delivery up to 35km from Vancouver. You don't have to lift finger. The only thing we need from you, is to look at your schedule for when your new furniture arrives and goes straight into your home. We take care of all the rest, loading, lifting and bringing it up the stairs. If you don't need the items right away, we even store them for you. (If you are outside of this local area please contact us for more details)
We Assemble
We offer free assembly with every purchase within our Greater Vancouver area. No styrofoam, no boxes, no tools, and no cleaning up any mess. We give you the white glove experience in every aspect of what we do, so you can just come home, open a glass of wine and show off your new style with friends and family, can you say they might be jealous?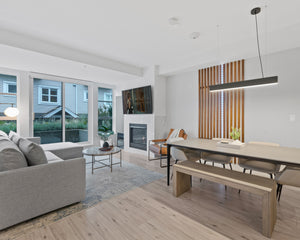 Dining Room & Kitchen:
Counter stools, dining tables, dining chairs, sideboards, etc.
Living Room:
Sofas, couches, side tables, media units, coffee tables, armchairs, decor, etc.
Bedrooms:
Bed frames, mattresses, night stands, lamps, linens, etc.